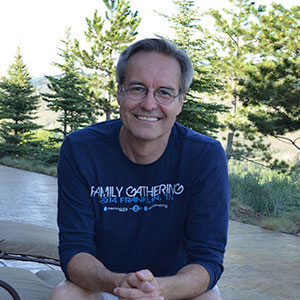 John Mays is the A&R representative for Centricity Music in Franklin, TN. For those who don't know, A&R stands for Artists and Repertoire. This is the division of a record label that is responsible for scouting talent and overseeing artistic development – "who they record and what they record."
With over 35 years experience in serving talented musicians, he is one of the most respected executives in the Christian Music Industry. In his career, John has discovered bands such as: The Waiting, Matt Redman, Point of Grace, Cindy Morgan (one of Tiffany's personal all-time fave), the Passion worship band, Nichole Nordeman, Lauren Daigle, and many, many more.
Brandon joined us for this interview today since he and Tiffany are long time friends of John's from "back in the day of The Waiting" years. (The band Brandon drummed for). It was nice to hear them catch up and tell stories, but also dive in to what it takes to be an artist today.
One of my takeaways from our conversation was the fact that, in regards to qualities of artists and "how do I get signed," talent is not #1 on the list. For Centricity Music, it's Work Ethic.
Do you have what it takes to keep going even when the going gets tough? Do you have the drive? The discipline? Does it go a step beyond Passion?
Even though my drive isn't to write a big hit song, I do have a drive to write; and his talk encouraged me to press in and raise the commitment bar of my passion.
We talked about favorite albums once confiscated by our parents, the "Pepsi Hickey" on the Big Chicken, growing up Pentecostal; and random Q&A unrelated to his music comfort zone (see below).
Home Town:
Andrews, TX.
3 Favorite Movies:
LaLaLand, Life is Beautiful, Saving Private Ryan
First Record ever bought:
Rolling Stones — "Honky Tonk Woman"
Coke or Pepsi?
Diet Dr. Pepper
What are two things you would do if you woke up and found yourself completely invisible?
I'd want to be in the Oval Office and see what's going on with Trump and hear the conversations that nobody else hears and [what he is] learning about the government and the C.I.A; Visit Swedish Producer/Song Writer Max Martin [He's a giant hit maker] and learn his secret to making hit records.
Honorable Mentions (links and other nuggets):
Michael Easley In Context Interview June 07, 2016
Cindy Morgan
Andrew Peterson