Do you struggle with setting and accomplishing goals? Do you get stuck feeling like there is so much to do and you don't know where to start– so you just don't do anything? I'm right there with ya! Today's guest has been instrumental in helping me face my fears of setting goals. Often, I would set a goal but would lack follow through. But by listening to Dr. Shannon's Podcast and working through her class, I've gained hope in this area and I am seeing results. I'm so excited to introduce you to her. Meet Dr. Shannon Irvine!
About Dr. Shannon Irvine
Dr. Shannon Irvine is an entrepreneur and high-performance achievement mentor. She is the host of the Epic Success Podcast. She is also the Founder of Mosaic Vision – a nonprofit organization that Restores the lives of AIDS orphans in Uganda and she is also a Dr. of neuropsychology, a wife, and a mom!
Her mission is to help others go for their God given dreams by giving them the step-by-step blueprint to go from "Dream to Launch" in a way that honors God, Family, and Values. Her step-by-step method of teaching gives new entrepreneurs and leaders the blueprint they need to make their goals come to life!
Her life necessitated that she figured out how to run her own business, get her Ph.D., be a good wife and the very best parent she could be all at the same time. She began a quest to study from and under the entrepreneur masters until she developed what she uses today to master goals, productivity, and achievement in half the time. She does this so that she can spend time with the people she loves, doing the things that make an impact in her life, and in the lives of others.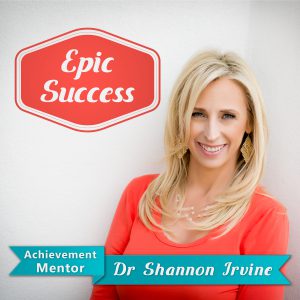 Topics Include:
Setting yourself up towards Positive Habits
21-day myth
How to move past Self Sabotage
Mosaic Vision: Restoring the Lives of AIDS orphans in Uganda
Leave a Legacy -Change an orphans life forever!
To Learn more, visit MosaicVision.org.
Upcoming Events:
LIVE FREE UPCOMING MASTERCLASS: Goal & Productivity Mastery Masterclass November 8th and 9th at 10 am pst
Learn how to use the power of your brain to Master a Goal Setting System, An Epic Achievement Mindset & become a Productivity powerhouse so you can Crush your goals!
Taught By Entrepreneur, Achievement Mentor, and Neuro-Psychologist Dr. Shannon Irvine
drshannonirvine.com/epicsuccessmasterclass
FREE DOWNLOAD FROM DR. SHANNON IRVINE:
5 Productivity Secrets (and how to use them to get 2 hours back a day!) (Free Downloadable Blueprint)
Dr. Shannon wants you to know the 5 Productivity Secrets that will get you 2 hours back today! She also shares with you the 3 habit mastery secrets that will make you the boss of your habits. Check out these goodies!
5 Productivity Secrets Implementation Blueprint
5 Productivity Secrets (and how to use them to get 2 hours back each day!)
Follow Dr. Shannon Irvine on Facebook | Instagram | Epic Success Website or @drshannonirvine