Have you ever thought to yourself, "If not now, when?" or "Why not now?" Today's episode is about just that. Carolyn Penner seized an opportunity to explore her passion for drama while taking a year off from her "real world job" to travel with "Up With People."
There are times when you have to look fear in the face, or maybe that "well-meaning" family member or friend, and just say "why not now?" If you have a passion in an area that doors seem to open up for and you feel the Lord leading you through, then go for it! Even if it doesn't make sense to anyone else but you.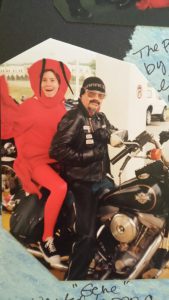 Carolyn majored in Theater, so of course, when she graduated, she continued her job at Home Depot.  She talks us through her transition from her job at Home Depot to her decision to travel with Up With People and the relationships she still has with that group 20+ years later.
But before we chat about traveling, we do laugh a bit… about:
Real Life stories from the Home Depot Service Desk
Chick Comedian, Anjelah Johnson
Parenting Advice: Keep your kids thinking you're crazy enough to carry out your threats.
Interested in learning more about Up With People and their mission to "empower …positive agents of change in the world?" Up With People